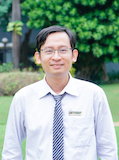 Lecturer of Department of Automation and Control Engineering
Office: C117
Education
M.Eng. in Mechatronics, Asian Institute of Technology, Thaiand, 2007 - 2009.
B.Eng. in Automatic control, University of Technology, HCM City, 1998 - 2003.
Professional Experiences
2003 - 2007: Electrical Engineer at Electrical Testing Center, Ho Chi Minh Power Company, HCM City.
2010 - now: Lecturer at Ton Duc Thang University, HCM City, Vietnam
Areas of interest
Robotics; metaheuristic algorithms
PUBLICATIONS
A. Journals
[1]. Vo, H. H., Brandstetter, P., Dong, C. S., Thieu, T. Q., & Vo, D. H. (2016). An implementation on MATLAB software for stability analysis of proportional controllers in linear time invariant control systems. In New Advances in Information Systems and Technologies (pp. 671-680). Springer, Cham.
B. Conferences
[1]. Vo, H. H., Brandstetter, P., Dong, C. S., Tran, T. C., Thieu, T. Q., & Duy, V. H. (2016, December). Parameter Adaptation in Machine Model-Based Speed Observers for Sensorless Induction Motor Drive. In International Conference on Advanced Engineering Theory and Applications (pp. 554-563). Springer, Cham.
[2] Thieu Quang Tri, "Development of a Therapeutic Device", International Symposium on Mechatronics and Robotics, Ho Chi Minh City University of Technology, Vietnam, October 2011.