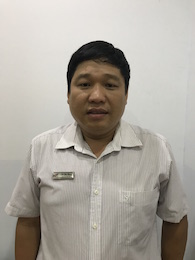 Lecturer of Department of Electronics and Telecommunications Engineering
Office: C117
Education:
PhD., Dayeh University, Taiwan, 2012 - 2015.
MSc., University of Technology, HCM City, 2007 - 2009.
Bachelor, University of Technology and Engineering, HCM City, 1998 - 2002.
Professional experiences:
2002 - 2003: Công ty cổ phần công nghệ Tiên Phong, Tp. Hồ Chí Minh, Việt Nam
2009 - 2012: Giảng dạy tại trường Cao Đẳng Công Nghệ Thông Tin, Tp. Hồ Chí Minh, Việt Nam
2012 - 2015: Nghiên cứu sinh tại trường đại học Dayeh, Đài Loan
2015 - nay: Lecturer at Ton Duc Thang University
Area of interest:
Digital Image Processing, Chip Design with FPGA, Fuzzy Control
PUBLICATIONS
A. Journals
[1] Thoai Phu Vo and Joy Iong-Zong Chen, "Reducing computational overhead by improving the CRI and IRI implication step" Journal of Control Science and Engineering, Volume 2015, Article ID 725258.
B. Conferences
[1] T. T. Dang, T. D. Vu and T.P. Vo, "Adaptive Cross-Point Regions for Lossless Images Compression", The 3rd International conference on The Development of Biomedical Engineering, Hochiminh city, Vietnam, January 11-14th, 2010.