With great efforts, on August 23, 2019, Mai Minh Man, a student at Faculty of Electrical and Electronics Engineering, Ton Duc Thang University had the first scientific paper "Smart Agriculture Using IoT Multi -Sensors: A Novel Watering Management System ", which was published in the international journal" Journal of Sensor and Actual Networks " with his instructor, Dr. Tran Anh Khoa.
For Mai Minh Man, TDTU is the grown passion place, where he met his friends, and teachers who instruct, help him to record admirable achievements such as second prize in university's competition; one of the 15 teams to enter the final round of the Eureka 2018 and the team's technology was transferred. With instruction of Dr. Tran Anh Khoa, student team of Mai Minh Man, Do Quoc Duy, and Huynh Hoi Thanh Loi caught attentions with their semi-automatic rambutan garden irrigation system.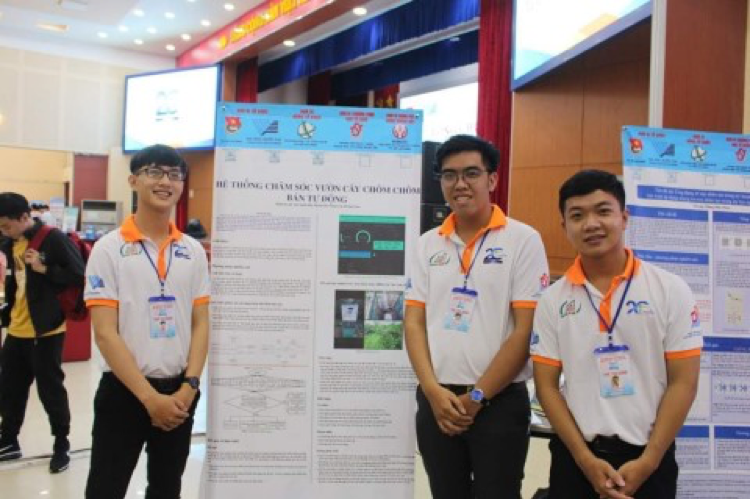 This system saves more electricity energy and water compared to traditional manual irrigation methods, while reducing labor costs and time. The team designed the system with automatic methods, completely taking the initiative in managing time, amount of water for garden. The cost of this system was also optimally calculated in order for farmers to approach the system. With this system, farmers can control it by using app on phone screen or directly control at their farm. A new feature of this irrigation system is controlling the system via internet network with complete security. And the control mode via app is easy for user to use. The system was successfully tested and installed in June 2018. And it was transferred to Cho Lach District, Ben Tre province at the end of 2018.
This is a research has a very high applicability. With this project, Mai Minh Man and his team won silver medals of "Designing, manufacturing, applying" contest in 2018.
Following Mai Minh Man, this scientific article is a combination of intensive electrical knowledge and perennial experience of citizen from the locals. From that we have a system which is able to take care of more farms, garden and has ability to manage irrigation water levels of farms, gardens in Cuu Long River Delta. From the mentioned system, Dr. Tran Anh Khoa and Mai Minh Man developed a new system. All the achieved results have been recently presented by group of authors with title "Smart Agriculture Using IoT Multi-Sensors: A Novel Watering Management System". This study was published in the well-known Journal of Sensor and Actual Networks, available online 23 August 2019, pp 1-22 (ISSN: 2224-2708), MDPI AGPublisher.Sensor and Actual Networks is an ESCI (Emerging Sources Citation Index) journal according to the Web of Knowledge (US) and Scopus journal according to the SJR (Spain) with the ranking Q2 of the Computer Networks and Communications subject category. 
Scientific research is a complex and interesting task, which requires students not only to have critical thinking and good basic knowledge but also to persevere in pursuing difficult and complex problems. With Man, the passion, cherished from childhood has now become a reality. This result is not only a result of Minh's own great joy, but this is a proof, creating a great motivation for all students to believe and follow the path of science and technology.