I. INTRODUCTION
The Automation and Control Engineering is closely linked to industrial processes, where human operations are completely replaced by machines and robots. This discipline provides students with knowledge of modern automatic control systems in the industry. With the support of electronic technology, the creative ideas of industrialization and modernization in all areas will be realized. 
II. THE EXPECTED LEARNING OUTCOMES
- Apply the ideology as well as current policies of the government in practice;
- Apply general knowledge such as mathematics, physics, chemistry and programming languages.
- Use English efficiently (IELTS 5.5 or equivalent), use Microsoft Office proficiently (equivalent to MOS certificate with the score at least 750/1000).
- Analyze basic electronic circuits and basic automatic control systems.
- Apply the specialized knowledge to regular processes and system in automation and control engineering.
- Investigate the practical problems that may happen in automation and control engineering and select the proper methods to solve unusual problems.
- Improve and upgrade the automatic control systems.
- Conduct research to develop new solution for the problems in automation and control engineering.
- Design, implement and operate automatic control systems.
- Provide consulting to plan, manage and deploy the projects related to automation and control.
- Can configure, program and execute for specific applications in PLCs industrial networks to satisfy the requirements for the certification of Programmable Logic Controller and Industrial Communication Networks, demonstrate the skills to prevent and avoid accidents in industry
- Communicate effectively, including teamwork communication.
- Manage time and resources effectively.
- Display integrity and responsibility, follow strictly the safety rules and professional ethics.
- Demonstrate a passion to self-study and self-research to improve the specialized knowledge to be able to solve the practical problems in engineering or passion to be leaders or entrepreneurs.
III. DIFFERENCE OF HIGH QUALITY PROGRAM
Class size: maximum 40 students/class;
All academic staff are Professors, Associate/Assistant Professors, and lecturers who have great reputation and teaching experience.
Modern classroom equipment; early access to new, high-quality experimental devices; support some specialized components in the process of making graduation projects;
Priorities in job introduction and postgraduate scholarship recommendation in developed countries around the world;
The programme is developed based on the reference to the Bachelor programme in Electrical and Electronics Engineering offered by the University of Manchester (United Kingdom) with some modification to be compatible with current condition of Vietnam higher education as well as the labor market demand in Vietnam;
Specialized teaching textbooks and materials developed according to modern materials of advanced programs around the world.
More than 50% of the subjects are taught in English.
Company visit and internship at industrial companies are offered regularly.
Experience professional internship or undergraduate thesis abroad.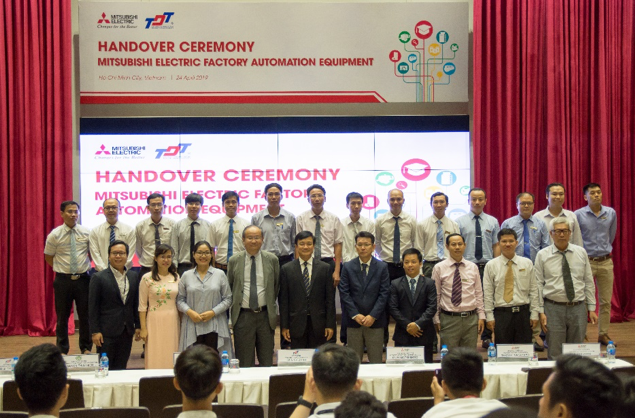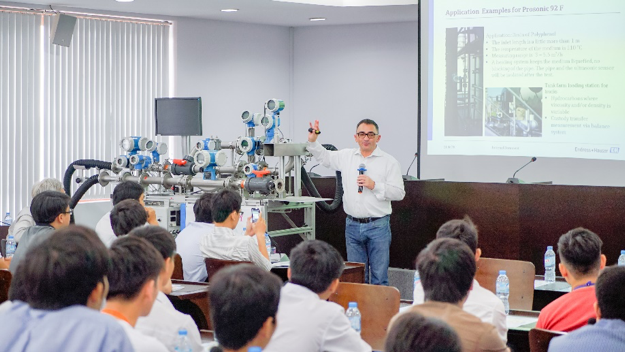 IV. CAREER OPPORTUNITIES
- Research centers, instistutions and universities: students are able to become researcher at Vietnam Research Institute of Electronics, Informatics and Automation, National Center for Technological Progress, high-tech parks, etc.; to become lecturers/instructors or researchers in Automation and Control Engineering at colleges and univerities around the country.
- Domestic and international manufacturing companies in variuous fields: design engineer, operating engineer, maintenance engineer in modern production lines including automobile assembling, aviation automation, power plant, food production factories, manufacturing of construction materials and consumer electronic devices, etc.
- Technical consultant companies, automation equipment vendors or technology transfer agencies: students after graduating are able to become technicians or specialists on consulting, design, analysis, and simulation to provide technical solutions for customers, who are business companies or govermental organizations; to become technical support engineers or sale engineers for the famous manufacturing corporations in automation and control engineering such as Siemens, ABB, Schneider, Bosch, to name a few.
V. RESEARCH TOPICS
- Robotics: industry, medicine, entertainment, rescue… 
- Artificial intelligence: applications in industry, agriculture, food, medicine…
- Industrial communication networks: Flexible Manufacturing System, Computer-Integrated Manufacturing, Modular Production System…
- Power electronics & electrical drives: PWM techniques, multi-pulse rectifier & multi-level inverter, distributed power generation system, wireless power transfer, solid-state transformer, HVDC transmission technology, modern control methods, observers, parameter identification (PMSM, IM…), saving energy, …
- Renewable energy: control/supervise solar cell systems, wind turbine systems
- Image and video processing / computer vision: develop the signal processing algorithm for speed, image, video signals, especially for IoT application development.
- Control theory: Bayesian artificial intelligence, machine learning, neural networks, nonlinear and adaptive control, optimal and robust control, intelligent control, multivariable control
- Metrology: applications in semiconductor technology, precision mechanics, bio-medicine, food…
- Mechatronics: automated guided vehicles, self-adaptive machine tools, digitally controlled combustion engines, contact-free magnetic bearings…
VI. ADMISSIONS
• Code: F7520216
• Subject combination: A00, A01, C01
• Matriculation score in 2019: 23,00
• For more information, go to: https://admission.tdtu.edu.vn/en